We have a wide range of services we provide. Below is a list of a few.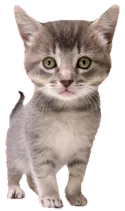 Wellness exams
Vaccines
Heartworm test, Intestinal Parasite Screen, FIV/Leuk Snap test
Comprehensive Profile (CBC & Chem)
Radiographs (Digital)
Spay/Neuter Surgery
Cruciate Ligament (ACL) Repair Surgery
Fracture Repairs
C-sections
And much more. Please give us a call to find out more information.
At Elgin Animal Clinic, we care for many types of pets:
| | |
| --- | --- |
| Dogs | Cats |
| Rabbits* | Pocket Pets* |
| Bird* | |
*Select veterinarians only. Call us for more information.
*Our doctor is not an specialist for exotic pets. Please call ahead so our staff can assess the situation to see if our doctors can see your animal or if we will have to refer you to another clinic.
Our appointment book is computerized which allows us to efficiently make appointments for you and your pet. Our receptionists and team will attempt to accommodate all requests to the best of our ability.
We only preform surgeries Monday through Friday
*WE ARE NOT AN EMERGENCY HOSPITAL*
All though we are not an emergency clinic, we do accept emergency cases. We have walk in hours for sick or injured pets on weekdays between 2-4 pm and 9:30am-12 pm on Saturdays. We are not equipped for all cases but will do everything we can to help you and your pet. Depending on the situation we may have to refer you to another hospital that would be best suited for the survival of your pet.
Emergency Check List
If possible it is best to call before coming in so that a team member can advise you on your particular emergency. We are also available for urgent care when the condition is not life-threatening, but you feel your pet needs to be seen before you are able to get an appointment. Our veterinarians will work to see you and your pet between our previously scheduled appointments. When you arrive, our receptionists will be able to give you an estimate on how long you may have to wait in order to be seen.
Elgin Animal Clinic accepts payment via cash, check, MasterCard, Visa, Discover or Care Credit. Full payment must be made at the time services are rendered. We do not offer any payment plans.
We provide written estimates for all surgeries and hospitalizations. If you would like a written estimate before any other medical procedure (ie. vaccines, exam, etc.) please ask your technician and they would be more than happy to write one up. We want to ensure that every client is fully aware of what we are doing and how much it will cost at all times.
Elgin Animal Clinic offers discounted services to senior citizens and local area rescue groups. Pre-approval is required to qualify for the rescue group discounts, please call us for more information.